Robert Ortbal, Beyond the Field, 2013
ROBERT ORTBAL
JAYJAY / Sacramento, CA
Challenging assumptions about figure and ground, nature and industry, Robert Ortbal's "Hide and Seek" reveals the instincts of a scientist exploring quirky bits of flotsam that speak to our human condition. Ortbal's hybrid constructions mesh organic and man-made materials in playful, yet at times severely formal compositions, his wall-mounted and free-standing constructions suggesting objects which have sprouted or nucleated, like crystals, from the supporting framework.
Into and out of (2013) plays with the idea of an architectural element gone awry—a slender strip of paper, upon which two bands of steel lie, spans the wall from near-ceiling to near-floor, echoing the metal wall cap nearby. The strip becomes animated, writhing as the bands part like a zipper and the strips morph into snaky, coiling kinks, the lower form reverting to a calm wholeness before climbing partway back up the wall. Number 63 (2013), a drawing mounted on a chunk of plywood, hangs low, adjacent to the sculpture. A fuzzy, dark oval of airbrushed flocking hovers above a tower of simply sketched ovals of graduated scale.
If Ortbal's earlier work had at times a manic quality, with elements like whirling arms splaying off in many directions, or linear cuts deeply gouging a wall, here the artist has retrenched, presenting a leaner and cleaner look. Part of this minimal aesthetic relates to inclusion of a new series of drawings inflected with a spare aesthetic akin to that of Richard Tuttle. Ortbal's drawings suggest scientific diagrams or botanical illustrations—but for some cosmos or biology which is alien to our world. These unusual, reductive works are, in fact, a big departure for Ortbal, who has never included drawing as part of his mature art process. Simple, basic geometric forms—rectangle, sphere, oval, cone—are repeated in the deceptively empty drawings, forging a relationship with the more voluptuous sculptures.
Other Side of Patagonia (2013) in yellow, orange, black, white and rust evokes a crusty 3D jigsaw inspired by maps of South America. An adjacent drawing, Number 61 (2013), compresses hexagons in the same hues into a mass, spiky rays extending off into a fields of hatch marks, suggesting a honeycomb structure or molecular diagram. Throughout, nature and science collude and collide, aiming for a fortunate intersection. Ortbal poses questions about our knowledge of the world around us, and how perception shapes experience.
Beyond the Field (2012) juxtaposes a soft-looking pink rectangular mass, where a cruciform composition anchors radiating, deeply incised grooves, with an architectural construction of lengths of lumber brushed roughly with white paint. A sparkly band of black, like a mountain range, sits atop the pink, the cotton-candy hue a foil for the unusual coloring, punched up as a thin band of yellow-green flocking hugs the seam.
Ortbal invites the viewer to observe space from a thoughtful, quiet perspective. There is much to admire in the crafting of his work, in the variety of surfaces and materials, but it is the way in which his structures engage the empty space, suggesting the macrocosm and the microcosm, which conveys a pulsing sensation of energy within the emptiness.
Victoria Dalkey: Exciting show by Robert Ortbal at Jay Jay Gallery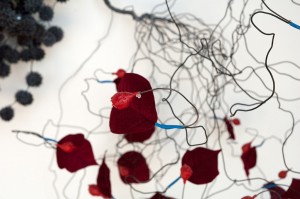 "Kind of Like a Sound," a bouquet of trumpetlike flowers, greets you on the first wall of Robert Ortbal's exciting show at Jay Jay. It's quirky yet beautiful, an elegant comedian made of unexpected materials.
Cemetery vases stand in for tubular blossoms; other material includes foam, resin, wire, vinyl, mica and silicon carbide. To top it off, parts of the sculpture are covered with flocking and paint. It's definitely an oddball, as are all of Ortbal's sculptures.
"Beyond the Field" combines geometric and organic forms in a piece that is infused with a delicate pink radiance. Nearby is "Begins With S," a slender spire in deep blue with a lacy surface that rises like a tall steeple on a church designed by Spanish architect Antoni Gaudi.
On the final wall of the exhibit, you come across "Architecture of a Scent: Cinnamon," a breathtakingly lovely wall sculpture of organic forms that call up seed pods and flowers. It's the latest in a series of works by the same title that deal with ineffable essences of fragrance. Here the elements used include wire, dissected fake flower parts, seed pods, cork, foil and the ubiquitous paint and flock. It's a lyrical statement of great intricacy and delicacy.
Accompanying the sculptures are numerous small drawings, which sometimes echo the sculptures but mostly stand on their own. While many of Ortbal's sculptures resemble drawings in space, these are firmly two-dimensional.
Ortbal says that the drawings are partly the result of his interest in contemporary cosmology in which our comprehension of physical phenomena is unknowable. His studies led him to question the value of the physical object and move into a two-dimensional realm with drawings that are neither blueprints nor plans for sculptures, but statements in themselves.
The imagery ranges from conical forms to bulbous shapes; the coloration from delicate blues and pinks to rich blacks. These are quiet works that seem to exist in their own hermetic world.
In these drawings, he addresses ideas that are new in his work.
"Freed from gravity," Ortbal writes, "marks on paper can explore notions like delicacy, and absence versus presence, from very different angles – giving me access to a new set of questions such as 'Is this work more connected to matter or energy?' "
Engaging mystery and metaphor
By Victoria Dalkey
Sacramento Bee Art Correspondent
Published: Friday, Dec. 3, 2010
Elegant, enigmatic and elusive are the words that first come to mind when describing the sculptures of Robert Ortbal, on view at Jay Jay Gallery this month.
Using unconventional materials such as foam cups, dissected cat toys, Astroturf and fake rocks, Ortbal makes odd forms that sometimes suggest natural objects and others that seem to have dropped from outer space.
"Surrender" is a pocked planet flocked with spray-on fuzz, sitting on the floor with a variety of wire appendages topped by flaglike forms reaching out like antennae.
Is it animal, vegetable, or mineral? Does it have a function? Is it a metaphor for something else?
These questions remain unanswered, but the object is oddly compelling, sitting there on the floor like an afterthought.
Similarly mysterious is "sometime around sunset," an orange wall piece that suggests, perhaps, a range of mountains or cliffs, whose interior spaces are coated with a purple-blue fuzz that simultaneously suggests new growth and rot. It's both mute and eloquent, an object that is incomprehensible yet somehow familiar.
And so it goes as you move throughout the show.
"Oz" is an upturned fake rock affixed to the wall, sprayed inside with velvety moss-green flock. On one side, a red plastic puddle is attached with a welter of wires that suggest computer innards. It's bizarre yet oddly beautiful.
"Old Plum" is a little more gettable. It extends off the wall like a twisted bundle of twigs with bumps of new growth and a fur of mossy growth, then explodes in a series of odd blossoms made of parts from disassembled cat toys. It's both goofy and elegant, natural without being naturalistic.
The pièce de résistance is a large piece titled "Architecture of a Scent: Somewhere off the Coast of Davenport." Here Ortbal ventures into the realm of synesthesia, giving us a visual equivalent for a sensory stimulus. Smell is the most potent reminder of past experiences. (The aroma of cinnamon, for example, can call up pleasant memories of your grandmother's kitchen.)
Here, Ortbal evokes a place with abstracted references to a cliff form blanketed, he writes in a statement accompanying the show, with "fields of tender yellow green mustard" bound by a series of extrusions that suggest barnacles. At the same time, the cup-shaped protrusions could be a three-dimensional blowup of something found on a lab specimen.
This is the kind of show that will leave some people scratching their heads in confusion, but others will marvel at the way Ortbal reaches into the far realms of art-making to give us new and wholly original experiences.
ROBERT ORTBAL SCULPTURES
Jay Jay Gallery, 5520 Elvas Ave., Sacramento 11 a.m. to 4 p.m. Wednesday-Saturday, through Dec. 23. Free. (916) 453-2999.